A Pakistan International Airlines (PIA) passenger plane,an Airbus A320, flying from Lahore crashed into a residential area of Karachi, killing at least 76 people. The crash came just days after Pakistan began allowing commercial flights to resume after a coronavirus lock down.
The plane was carrying 91 passengers and eight crew members.At least two passengers are confirmed to have survived the crash.
Flight PK8303 was approaching Jinnah International Airport at about 14:30 local time (09:30 GMT). It had been given permission to land but the pilots decided to abort and go around for a second attempt. The plane then rapidly lost altitude and crashed short of the runway into the Model Colony neighborhood. At least six people who were on the ground when the airliner crashed into houses were injured and are being treated for their injuries.
Although the reasons for aborting are yet to be known, one civil aviation official told Reuters the plane may have been unable to lower its undercarriage.
Passenger Muhammad Zubair,one of the two who survived the crash, suffering only minor injuries, said that, when he came to, "I could hear screams from all directions. Kids and adults. All I could see was fire. I couldn't see any people – just hear their screams."  "I opened my seatbelt and saw some light – I went towards the light. I had to jump down about 10ft (3m) to get to safety."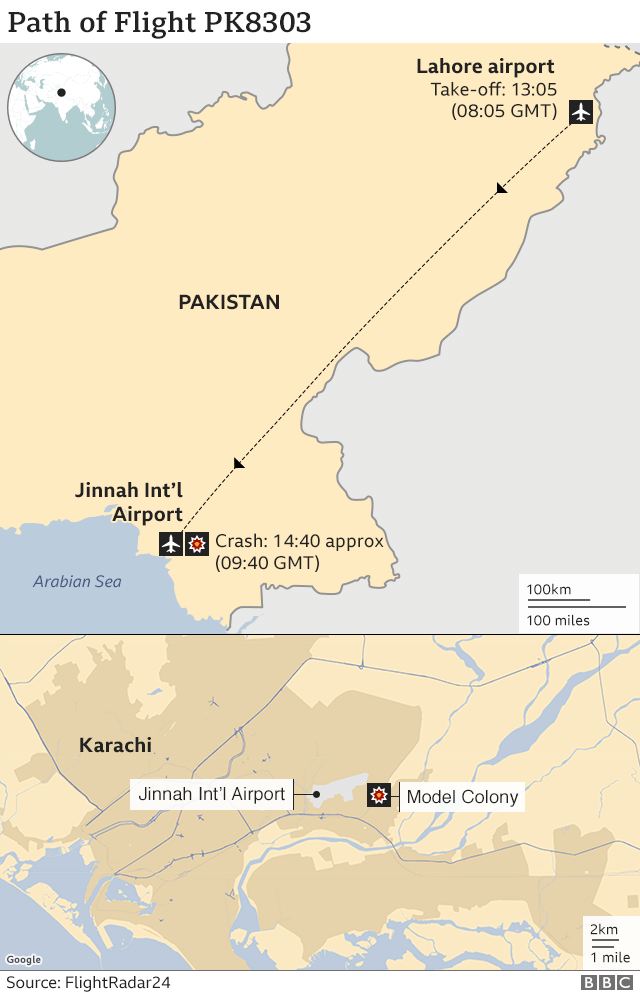 According to the Ministry of Health spokeswoman,Meeran Yousuf, who spoke to Al Jazeera by telephone,92 people died from the crash. 60 bodies are being kept at Jinnah Postgraduate Medical Center,Karachi's largest government hospital and 32 at Civil Hospital Karachi, another major state-run hospital.19 of the bodies have already being identified.
Zafar Masud, president of the Bank of Punjab,has also been identified as the other of the two
passengers
 who survived the crash. Zubair and Masud were both seated at the front of the plane.
Investigators will try to retrieve the black box recorders to help determine the cause of the crash. A committee of investigation has already been set up.